Ostatnio twórcy gier często wracają do klimatu lat 90., głównie stosując styl graficzny, który dziś często nazywamy "pikselowym". Miłośnicy tego stylu na pewno zainteresują się najnowszą przygodówką od Clifftop Games/Raw Fury Games, której akcja dzieje się w 1995 roku – "Kathy Rain".
"Kathy Rain" opowiada historię upartej studentki z detektywistycznym zacięciem, miłośniczki motocykli, która po kilkunastu latach wraca do rodzinnego miasteczka. Bohaterka rozpoczyna śledztwo w sprawie miejscowej tajemnicy i dziedzictwa swego niedawno zmarłego dziadka. Gdy podąża zostawionymi przez niego wskazówkami, pojawia się coraz więcej pytań... Czego tak naprawdę szukał Joseph Rain tamtej nocy, tak wiele lat temu? Co zmieniło go w cień człowieka, którym się stał, i przykuło do wózka inwalidzkiego? Co młoda artystka, popełniając samobójstwo, wzięła ze sobą do grobu? Dlaczego tak wiele osób w Conwell Springs wariuje? Powrót do rodzinnej miejscowości sprawia, że Kathy poznaje nie tylko tajemnice dziadka, ale też odbywa podróż w głąb własnej duszy i rozprawia się z trudną przeszłością.
To właśnie fabuła jest największą zaletą gry. Poznajemy ją stopniowo, badając kolejne tropy, odkrywamy tajemnice poszczególnych miejsc i osób, docieramy po nitce do kłębka. Historia staje się coraz bardziej zagmatwana, a gracz coraz bardziej chce poznać rozwiązanie zagadki. Czy jednak do końca je poznaje? Myślę, że nie będzie to spoilerem, jeśli powiem, że najprawdopodobniej rozwiązanie to każdy będzie musiał sobie dopowiedzieć sam. Trudno powiedzieć, czy jest to bardziej wadą, czy zaletą produkcji, jedno jest pewne – zostawia furtkę do ewentualnej kontynuacji, która będzie pewnie miała miejsce, jeśli gra odniesie sukces.
Jeśli chodzi o zagadki, w "Kathy Rain" zdecydowanie dominują te przedmiotowe. Są one jednak dość zróżnicowane, a pojawiające się co jakiś czas łamigłówki słowne skutecznie urozmaicają rozgrywkę. Nie są może one szczególnie wymagające i nie pochłoną nas na długie godziny, ale zmuszą do głębszego zastanowienia, a ich rozwiązanie da nam dużą satysfakcję, gdyż odkryjemy kolejny element układanki. Będzie też błądzenie po lesie, otwieranie sejfu, kombinowanie z komputerem, dźwiękiem i obrazem, więc na nudę nie można narzekać.
Twórcy zadbali także o efekty pogody – na cmentarzu mogą powitać nas promienie słońca lub strugi deszczu. Ciekawy także, choć nie innowacyjny, jest system dialogów oparty na notatniku – tematy do rozmowy zmieniają się w nim, gdy zdobywamy nowe informacje.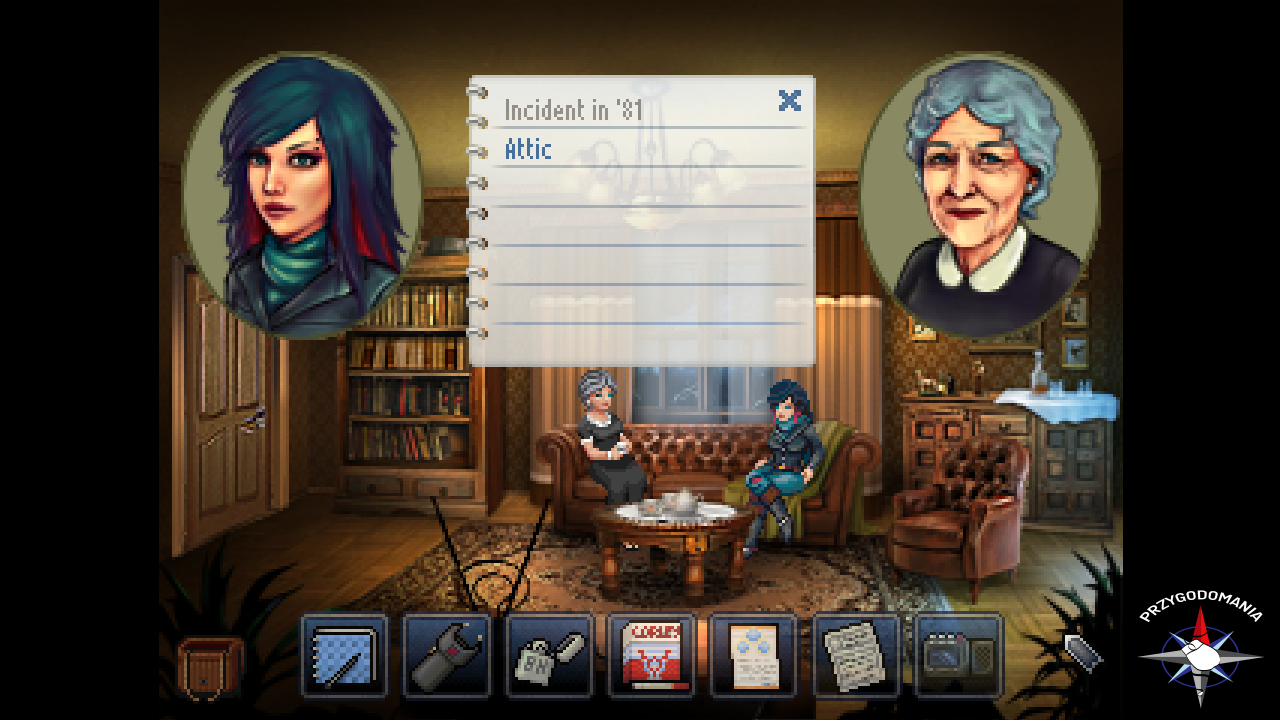 Na szczególną, moim zdaniem, uwagę, zasługuje udźwiękowienie, zarówno muzyka, jak i nagrania głosów postaci, nad którymi pieczę sprawował znany z Wadjet Eye Games Dave Gilbert. Trzeba przyznać, że warstwa dźwiękowa znakomicie oddaje klimat rozgrywających się wydarzeń, a słowa wypowiadane przez bohaterów pozwalają nam doskonale wczuć się w historię.
Mimo wszystkich plusów gry w pewnym momencie miałam wrażenie, że potencjał historii nie został do końca wykorzystany, a całość poszła w pewnym momencie w kierunku, który nie jest mi bliski. Ale może to tylko moje odczucia?
"Kathy Rain" to produkcja zdecydowanie różniąca się od przygodówek, w które dotychczas grałam. Mimo odniesienia do przeszłości, czyli lat 90., wniosła w gatunek nieco powiewu świeżości. Fabuła, choć nie do końca spójna klimatycznie, naprawdę wciąga na przyzwoite 8 godzin. Moja ocena 8+/10.
Zalety:
- wciągająca historia
- charakterna główna bohaterka
- ciekawe, zróżnicowane zagadki
- ścieżka dźwiękowa
- głosy postaci
- przyzwoita długość
- efekty pogody
- system dialogów
Wady:
- dla niektórych może to być grafika (nie dla mnie)
- nieco mało zagadek
- nie do końca spójna klimatycznie fabuła
P.S. Chciałabym bardzo podziękować twórcom za możliwość udziału w beta-testach oraz zapewnienie, że jeśli gra odniesie sukces, jest szansa na wspólne prace nad polską wersją