---
---
Publicysta
Posty: 1117
Rejestracja: 28 lutego 2012, 15:45
Otrzymał(a) podziękowania: 8 razy
Płeć:
Postautor: qwerty » 01 listopada 2014, 20:14
Nie dorównuje sezonowi 1, a wybory z DLC nie mają żadnego znaczenia. Mimo wszystko gra zasługuje na mocne 8/10, głównie za sprawą fenomenalnego Cartera. Czekam na sezon 3.

Epizod 1 > (Epizod 5 & Epizod 3) > (Epizod 2 & 4)
Na tapecie:
Przygodówka: Space Bar / Professor Leyton and the Diabolical Box (NDS)
RPG: Final Fantasy (PSP)
Taktyczna: Front Mission (SNES)
Survival Horror:
Silent Hill
FPS:
Half-Life 2: Episode 2
Akcja:
Little Nightmares: Secrets of the Maw
Logiczna: Babel Tower
---
Obserwator
Posty: 29
Rejestracja: 31 sierpnia 2013, 14:56
Lokalizacja: Chojnów
Podziękował(a): 1 raz
Płeć:
Postautor: Hemiq » 19 stycznia 2017, 21:00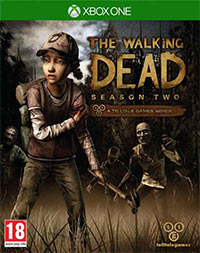 Kończenia, a zarazem odświeżania sobie gier zakupionych w pakiecie
The Telltale Undead Survival Bundle
na Xbox One ciąg dalszy. Przyszedł czas na ponowne ukończenie
The Walking Dead: Season Two
. W porównaniu do poprzedniczki, ten ssie i to strasznie. Ktoś kiedyś napisał, że choć gramy znaną nam z pierwszego sezonu Clementine to opowiadamy historię innej dobrze nam już znanej postaci. Grając w wersję na konsolę Xbox One uświadczyłem długie czasy ładowania, spadki płynności oraz zwieszanie się gry na kilka sekund. Tego w wersji na PC nie było. Ogólnie rzecz mówiąc słaba gra, jednakże zakupu nie żałuje. 16,50 zł za tą grę (uroki zakupów w pakiecie
; konsolowe wersje gier normalnie tak bardzo drogie
) to cena adekwatna. Może nie tyle że za samą rozgrywkę, co za grę oraz to że jest to edycja konsolowa gry na nową generację. Pozostał mi do ukończenia The Walking Dead: Michonne (odprysk od serii głównej, niepowiązanej z główną serią od Telltale?) i mogę kupować na jakiejś zacnej promocji The New Frontier. Reasumując, wersję Xbox One oceniam jeszcze niżej niż wersję PC. Na
5/10
.
P.S. Telltale, 5 epizodów na łącznie 8 godzin i 9 minut. Seriously? :cry:
Podsumowanie ukończenia gry na PC:
---
Publicysta
Posty: 1633
Rejestracja: 04 stycznia 2012, 00:53
Lokalizacja: Kielce
Podziękował(a): 3 razy
Otrzymał(a) podziękowania: 52 razy
Płeć:
Kontakt:
Postautor: Vicek » 12 września 2017, 22:15
Pierwszy sezon zrobił na mnie znacznie większe wrażenie. Kontynuacja jest bardzo łatwa, zaledwie poprawna fabularnie i ma przeciętnie wykreowanych bohaterów (z dwoma czy trzema wyjątkami). Nie znaczy to jednak, że grało mi się źle. Przeciwnie - wydarzenia śledziłem z zainteresowaniem, a ostatni wybór porządnie mną wstrząsnął. Podobało mi się również bardzo emocjonalne zakończenie.

7/10
_________________________________________________________________________________________________
Kanał na youtube o przygodówkach i nie tylko:
http://www.youtube.com/user/vicek83
---
Poszukiwacz Przygód
Posty: 252
Rejestracja: 08 lipca 2015, 13:42
Podziękował(a): 4 razy
Otrzymał(a) podziękowania: 10 razy
Płeć:
Postautor: DirkPitt1 » 02 lutego 2018, 13:13
Dla mnie drugi sezon nie jest gorszy od jedynki, momentami bawiłem się chyba nawet odrobinę lepiej, także grę oceniam na 8.

Plusy/Minusy:
Te same, co w Sezonie 1
Ostatnio ukończone: Broken Age
W trakcie: Primordia, Fran Bow
W planie: The Whispered World
---
---
Wróć do "The walking dead: sezon 2"
Kto jest online
Użytkownicy przeglądający to forum: Obecnie na forum nie ma żadnego zarejestrowanego użytkownika i 1 gość