GOLD RUSH!
Developer: Sierra
Wydawca: Sierra
Rok wydania: 1988
Dawno, dawno temu w Ameryce była sobie mała rodzinna firma. Małżeństwo tworzące tą firmę wraz z niesamowitymi pracownikami, stworzyło legendy gier przygodowych. Po wydaniu pierwszej części Larrego, Space Questa, King's Questa itd., Williamsowie postanowili stworzyć grę przygodową o amerykańskiej legendzie, historii i wielkiej podróży. Akurat tak się złożyło, że pracowali u nich dwaj wybitni twórcy- bracia, którzy podali taki pomysł i zrealizowali go [bohaterami gry są także bracia]:




I stworzyli Gold Rush - na niecałych 1.2 Mb zmieścili 2.500 mil podróży, epickiej przygody [na lądzie, na wodzie itd.], pełną cudownej mechaniki [liczba interakcji powala - kilka dróg do zakończenia przygody - pierwszy raz w historii przygodówek! ] , historii oraz ostrej jak brzytwa i pięknej grafiki [ 16 kolorów ][pełno detali - grafika zwyczajnie piękna]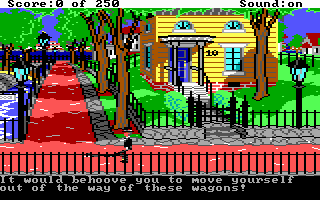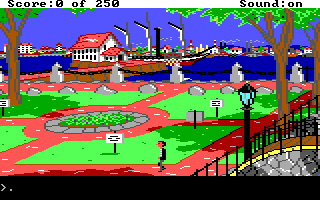 [Grę odpalamy z DosBoxa] .
Gra nigdy nie była tak popularna jak wielcy starsi bracia ale do dziś jest jedną z lepszych przygodówek i stanowi prawdziwy zagubiony klejnot w skarbcu retro przygód.
Wcielamy się w postać Jerroda Wilsona , gołowąsego redaktora nowojorskiej gazety. Akcja zaczyna się w 1848 roku, kiedy wybucha na całego gorączka złota.
Po otrzymaniu listu od brata, nasz bohater znudzony podłym i nudnym życiem w Brooklynie wyrusza na Zachód. A my wraz z nim ruszamy na tą pełną niebezpieczeństw wyprawę.
Zależnie od wybranej drogi spotkamy inny zestaw zagadek, questów i przygód - tak jest - gra jest niesamowicie grywalna i pozwala na kilka ukończeń całkowicie innych od siebie.
Wszystkie zagadki są logiczne [no prawie
], podobnie zadania stawiane przed nami - aby rozpocząć podróż trzeba np. sprzedać domostwo bohatera | zgromadzić zapasy [uwaga WAŻNE - jak się nie zabezpieczycie odpowiednio to na jakimś zadupiu przywita Was ponury żniwiarz] - są powiązane z celami, które chcemy osiągnąć.
Jak na Sierrę przystało, możemy parę razy utknąć w martwym punkcie, więc przydaje się obmyślanie potencjalnych negatywnych konsekwencji naszych decyzji.
Niektóre zadania są naprawdę trudne - w grze mamy czasem namiastkę upływającego czasu i niektóre zadania są z tym związane - można spóźnić się na dyliżans etc.
Co to przypomina ? - Taki mały protoplasta The Last Express.
Klimat w tej grze jest naprawdę świetny - wiem, że ciężko w to uwierzyć patrząc na prostą grafikę ale cóż, spróbujcie sami.
Gra leży na prawie każdym serwisie ze starymi grami i czeka na wzięcie z półki.
Proszę o wpisanie gry do Indeksu Przygodomanii.
Ps. w grze jest do dziś nie usunięty bug, nie używajcie prędkości FAST, zostańcie na Normal maks ponieważ ta najszybsza pierniczy pewne aspekty gry i to zwłaszcza w ważnych momentach.
A i wzięto się za rimejk:
http://www.playm.de/2013/12/gold-rush-s ... ht-129519/